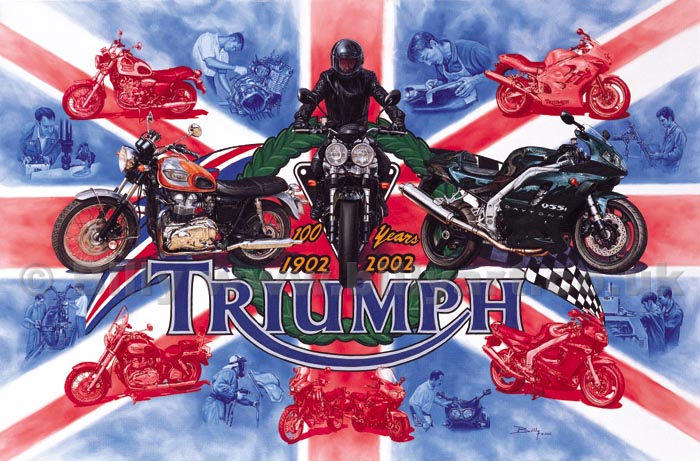 'Triumph 100 Years'
by Billy
Triumph Motorcycles fine art print FREE WORLDWIDE SHIPPING

£20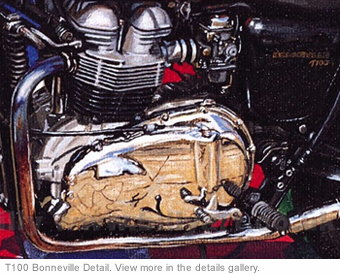 "Print arrived today totally undamaged due to the excellent packaging. Many thanks for a brilliant print, and for the superb service."
Glenn UK
Follow Billy on
Facebook
and
Twitter



"Triumph - 100 Years" print size 51 x 71 cm, Limited Edition of 1000.

£20

This 'Triumph 100 Years' painting by Billy was produced to celebrate Triumph Motorcycles' centenary year in 2002.
The Image is based on the Union Flag with scenes of the Triumph Motorcycles' workforce performing various stages in the production of these classic Triumph motorcycles in monochrome blue.
The Triumph Motorcycles' model range from 2002 is encompassed in monochrome red around the outside with the Two centenary Triumph Motorcycles models (T100 & Daytona) flanking the beastial Speed Tripple (I am on the bike!) coming straight out of the centre of the painting in full colour.
Thanks go to Triumph Motorcycles dealer
BS Bikes
too for the loan of all the Triumph Motorcycles for the painting.
Bob and the staff were great in helping in the production of 'Triumph 100 Years' by wheeling out all the Triumph Motorcycle models required for the painting. They have an 'Artist Proof' of 'Triumph 100 Years' in their Triumph Motorcycles showroom.
The original painting of these Triumph Motorcycles was produced in oils on canvas and took over two months to produce. The attention to detail on this painting of these wonderful Triumph Motorcycles is stunning and you can see them in the
details gallery
.
"I average a square inch per hour on the final detail so enjoy the detailed images of my Triumph Motorcycles painting and let me know what you think of my work." Billy
CLICK HERE TO VIEW THE DETAILS GALLERY
I have shipped orders of this Triumph Motorcycles fine art print around the world including to the UK, USA, Germany, Switzerland and Austria.
COMMENTS ABOUT BILLY'S TRIUMPH PRINT AND SERVICE

"Beautiful work Billy! You are extremely talented. Thank you for the opportunity to own your work. Take care and keep painting!"

Gloria Schafer,
Bucks Motorsports
, Buffalo, USA
"Thanks for posting the excellent Triumph 100yr print to me. It arrived in it's sturdy cardboard tube sooner than expected, and is now happily hanging in the triumph motorcycle showroom were I work.

Thanks again."
Dirk Paintedman,
Cycle Specialities
, Modesto, USA
"The poster is great!
"
Carroll Blewster, USA

"I have to say it looks absolutely stunning on my wall at home. I was exceptionally impressed - good job that man!"
Simon Carter, RAT UK


"I saw a small news article in Torque, The Magazine of the Riders Association of Triumph, that had a photo of David Bill's Triumph-100 Years print along with the contact info. I knew from the moment I saw the print on the website, it was a must have to proudly display in my home. Ordering was relatively easy. My print arrived much faster than I had anticipated. It took just a few days to arrive via mail service from the UK to my home in Roanoke, VA. I highly recommend Billy. for his outstanding service, price and quality."
Bill Shell, USA

---
Click here to view all of Billy's Motorcycle Fine Art Prints.
---
HOME View more of the Art of Billy www.billyart.co.uk
Become a friend of Billy the Artist on Facebook

Share Share this page with your Facebook friends

This is not a Triumph Motorcycles factory official product but an appreciation by Billy of the wonderful Triumph Motorcycles.