'Triple First'
by Billy
Share
Leon Haslam's First Alstare Suzuki race,
First pole position and First win

Signed by Leon Haslam and Billy. FREE UK POST
Limited Edition of 250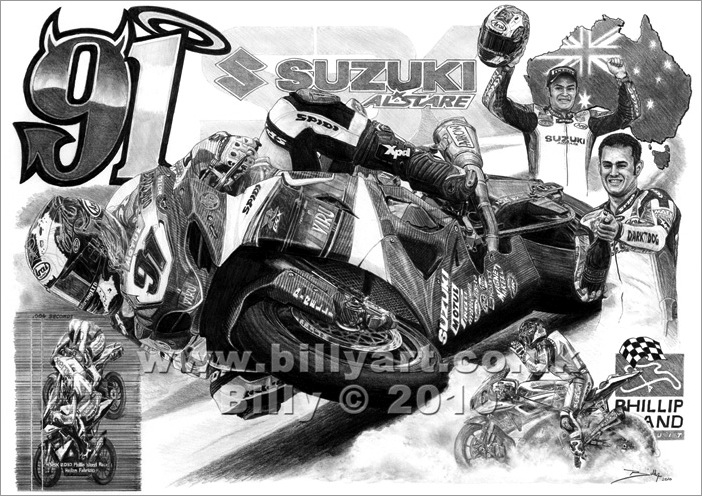 The original drawing is in the collection of Leon Haslam. The watermark does not appear on the print.
Limited Edition of 250 signed and numbered by Billy & Leon Haslam. 16x12"
(407x305mm and will fit in a standard size 16x12 photo frame)
£15 with free UK post and packing.
"I really like the original drawing, I couldn't believe the detail and quality of the picture. They are such good value too. There will be one on my wall for sure."
Leon Haslam

Leon Haslam signing the limited edition prints (above) and receiving the original drawing from Billy (above right)
Above is a close up detail of the front forks, Nissin front brake calliper, radiator engine grill and carbon fibre fairing.
The limited edition print 'Triple First' is taken from the stunning pencil drawing of Leon Haslam by Billy and shows multiple aspects of the day of the first World Superbike round of 2010 at the Phillip Island Race Circuit in Australia.
The main image in the centre of the drawing depicts Leon deep in a corner aboard his factory Suzuki Alstare Motorcycle in the first round of the World Superbike Championship at Phillip Island in Australia. The image aptly shows off Leon's determination, dedication, concentration and celebration of his first World Superbike win.
In the top right hand corner you can see Leon Haslam arriving on the podium after race one and celebrating his first win with the mandatory Champaign. At the top left is Leons '91' logo that adorns his helmet and race number plate. You then traverse across the drawing to view the Suzuki Alstare and World Superbike logos superimosed upon oneanother but behind the main bike image.
In the bottom right hand corner Leon's victory burnout is depicted with the smoke from his tattered tyre just starting to obscure the Phillip Island race circuit logo. In the left hand corner of the drawing you can view the 'photo finish' photograph showing the .004 thousandth of a second split that Leon beat Fabrizio on the Xerox Ducati. The narrowest margin a World Superbike Race has been won by!
"The print is fantastic," said Leon Haslam. "I had no idea how much detail could be produced in a drawing like this but it really is quality - especially for the memories!"
Each of the detail images shown here are actual size from the pencil drawing by Billy to give you a view of the level of detail put into the artwork. Billy averages around one square inch per hour when drawing the highly detailed areas of the image. You can view more of Billy's pencil artwork on the
musicians pages
where there are sketches produced live at concerts in minutes.

Visit
Leon Haslam's website
---